Are you a pasta enthusiast who can't resist a flavorful sauce? If so, you may be familiar with Prego and Ragu. In this post, we will compare and contrasts the two brands in various aspects, such as nutrition, flavor, and price, to help you decide the ultimate choice for your taste buds!
Step into any grocery store and brace yourself for a sauce-tasting extravaganza! The endless array of options can leave you feeling overwhelmed. There are two brands that you will, however, never go wrong with – Prego and Ragu. Both produce a wide range of products and flavors suited for different dishes and tastes. If you are unfamiliar with the two brands, you may wonder which one packs the most flavor and which one you should stock up on next. This post offers a comprehensive guide comparing Prego and Ragu to help you decide which fits your needs. Get ready to become a sauce connoisseur!
---
Brief Overview Of Prego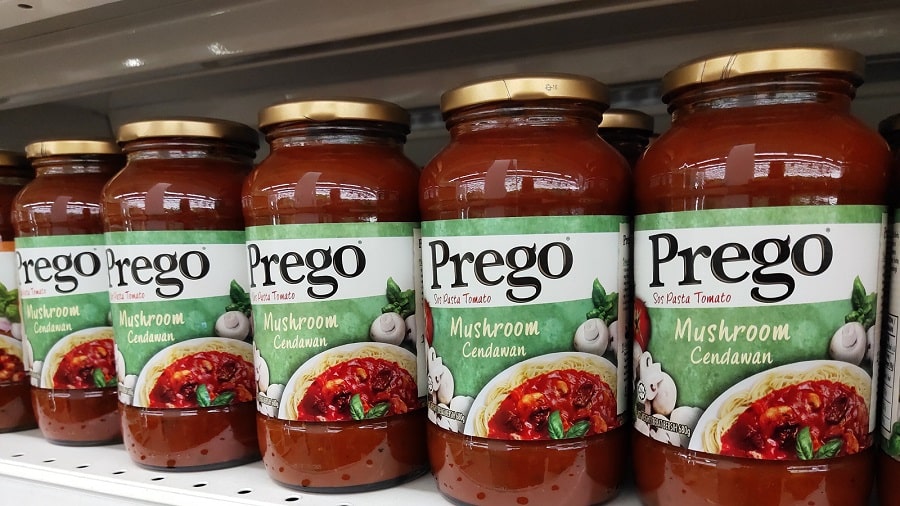 Prego is a product of the Campbell Soup Company, a well-known and highly successful food manufacturer based in the United States. Prego was launched in  1981 and has since become one of the most popular pasta sauces in the world. Looking for something to spice up your pasta dish? Whether you are looking for a vegetable sauce or a meat sauce, Prego has a wide variety of flavors and options to choose from.
---
Brief Overview Of Ragu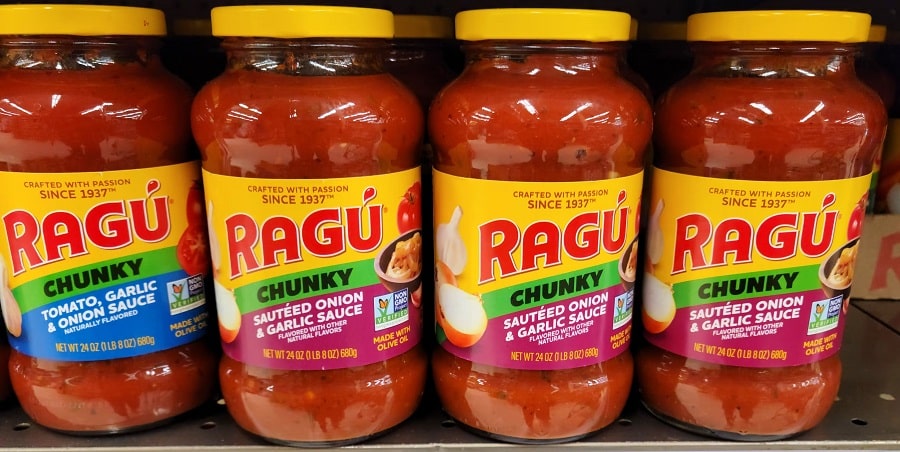 Ragu is a sauce brand owned by Japanese food manufacturer Mizkan. The brand was initially owned by Unilever but was sold to Mizkan in 2014. Ragu is one of the most popular meat-based sauces in the United States and is also available in other countries, including the United Kingdom and Canada. The cause also comes in many flavors you can choose from.
---
Flavor Comparison
When choosing a sauce, the flavor is the most important factor to consider.  Both Prego and Rogu come in a variety of flavors, some of which may be similar, but there are some distinct differences between them. Below are seven of the best flavors from both brands.
Top seven Prego flavors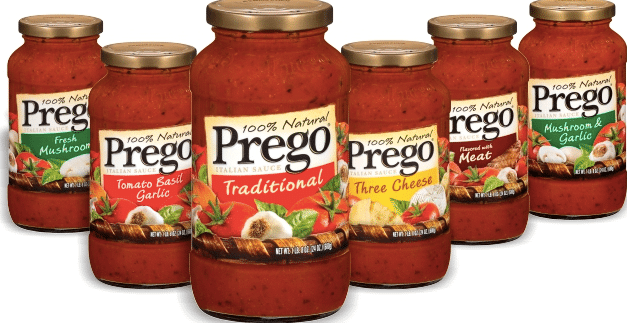 Garden Chunky Combo Italian Sauce
Creamy Vodka
Hidden Super Veggies with Roasted Garlic and Herb Italian
Italian Sauce Flavored with Meat
Hidden Veggies with Meat
Farmers' Market Classic Marinara
Garden Chunky Mushroom and Green Pepper
Top seven Ragu flavors

Creamy Basil Alfredo
Mushroom
Parmesan and Romano
Chunky Garden Vegetable
Roasted Garlic
Roasted Garlic Parmesan
Sauteed Onion and Garlic
Pro Tip(s):
For a full-bodied flavor with sweet notes, Ragu is the perfect sauce for your pasta dishes! Prego is ideal for all your Italian cooking, providing a spicy, chunky sauce to add a kick to your recipes.
---
Ingredient Comparison
The ingredients used in each sauce varies depending on the flavor. However, the following are some of the key ingredients found in both brands:
Prego Traditional Sauce

Diced Tomatoes In Tomato Juice
Canola Oil
Sugar
Tomato Puree (Water, Tomato Paste)
Contains Less Than 1% Of Salt
Dehydrated Onions
Spices
Citric Acid
Dehydrated Garlic
Onion Extract
Garlic Extract
Ragu Old World Style Traditional Sauce

Dehydrated Onions
Dehydrated Garlic
Garlic Powder
Onion Powder
Tomato Puree (Water, Tomato Paste)
Salt
Olive Oil
Sugar
Spices
The two sauces have a lot of ingredients in common. However, there are two main differences. Firstly, Prego contains diced tomatoes, which Ragu does not, giving Prego a chunkier texture. Secondly, Prego is made with canola oil, whereas Ragu's label states "Now With Olive Oil," suggesting they either changed their oil or recently began including it in their recipe.
---
Nutrition Comparison
When comparing the nutritional value of both sauces, you will not notice much difference between Prego and Ragu. Ragu is, however, healthier as it contains fewer calories, sugar, and fat. The following is a more detailed comparison of the nutritional values of Prego and Ragu sauces.
| | | |
| --- | --- | --- |
| | Prego Traditional Sauce | Ragu Old World Style Traditional Sauce |
| Iron | 4% | 4% |
| Protein | 2g | 2g |
| Calcium | 2% | 2% |
| Total Carbs | 13g | 11g |
| Sugars | 9g | 8g |
| Saturated Fat | 0g | 0g |
| Cholesterol | 0mg | 0mg |
| Dietary Fiber | 2g | 3g |
| Total Fat | 1.5g | 1.0g |
| Sodium | 480mg | 480mg |
| Calories | 70 | 60 |
As you can see from the table, there is not much difference between the nutritional value in both brands. Both Prego Traditional Sauce and Ragu Old World Style Traditional Sauce have similar nutritional values, with Prego sauce having slightly higher amounts of iron and total fat and Ragu sauce having marginally higher amounts of dietary fiber. Both sauces have relatively high amounts of sodium and sugar and should be consumed in moderation as part of a balanced diet.
---
Price Comparison
The price of the different sauces will vary depending on many factors, such as serving size and flavor. However, Prego tends to be more expensive than Ragu on average. The following is the average price of a 45-ounce jar of Prego and Ragu sauces at various stores.
| | | |
| --- | --- | --- |
| Store | Prego Traditional Sauce | Ragu Old World Style Traditional Sauce |
| Giant Eagle | $3.99 | $3.49 |
| Walmart | $3.30 | $2.47 |
| Food Lion | $3.88 | $3.09 |
| Kroger | $3.99 | $2.99 |
---
Which One Is Better?
When choosing between pasta sauces, deciding which one to go with can be hard. If you are looking for an Italian-style sauce, you should go with Ragu. Ragu has a lot of flavors to choose from, such as traditional, meat, garlic, and herb. Prego also has a wide variety of sauces, including marinara, mushroom and garlic, and Alfredo. We recommend trying both  to see which one you like best.
---
Bottom Line
When deciding between the perfect sauce for your pasta,  Prego and Ragu both offer a variety of flavors and textures to choose from. If you are looking for a meat-based sauce, Ragu is the clear choice. Prego also has many vegetarian-friendly options, and with the addition of Italian herbs and spices, you can easily create a rich and flavorful sauce. All in all, Prego and Ragu both offer a variety of tasty and convenient sauces to choose from. If you haven't tried both, the best way to find your favorite is to experiment with different flavors and ingredients until you discover the perfect sauce for your taste buds. So go ahead, grab a spoon, and start tasting – the possibilities are endless!