Looking for the best cereals with marshmallows? Look no further! Check out our list of 15 top cereals with marshmallows, including Lucky Charms, Froot Loops, and more. Vote for your favorite and satisfy your sweet tooth at breakfast time!
Cereals with marshmallows have become a popular breakfast option in the United States since Lucky Charms was introduced in 1964. Over time, many brands have included marshmallows in their recipes to keep up with the demand. Read on to learn more about these 15 sweet and colorful bowls of cereal that have won many hearts and taste buds.
---
1. Fruity Pebbles With Marshmallows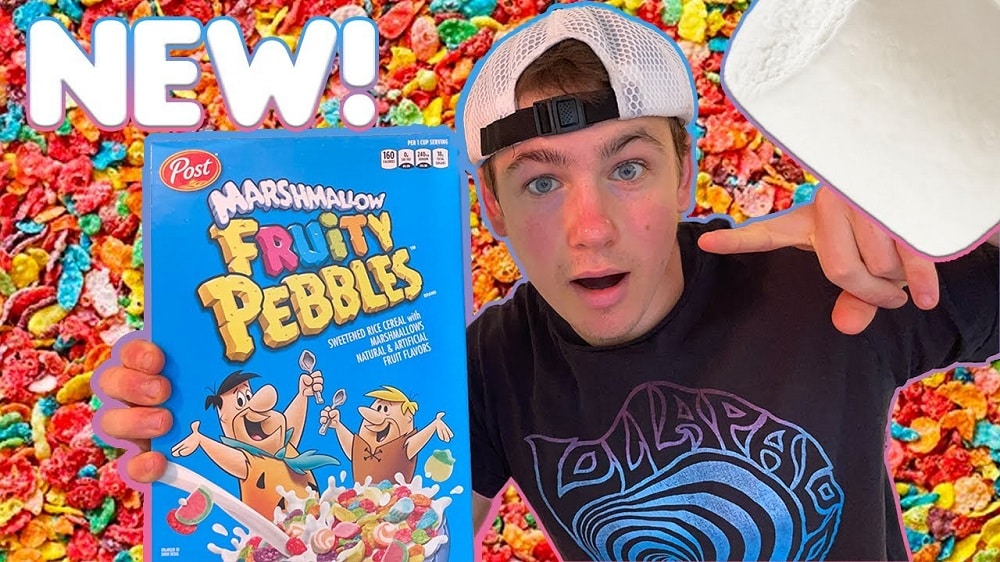 You'll be pleased to know that Marshmallow Fruity Pebbles blend the goodness of classic Fruity Pebbles cereal with an extra unique twist of fruit-shaped marshmallows! The six marshmallow shapes add fun to your breakfast with vivid colors and fruity flavors – orange, watermelon, pineapple, blue raspberry, banana, and strawberry. Plus, this gluten-free, sweetened rice cereal is made with a combination of natural and artificial fruit flavors to give you the perfect start to your day. Don't miss out on this exciting breakfast cereal!
---
2. Smorz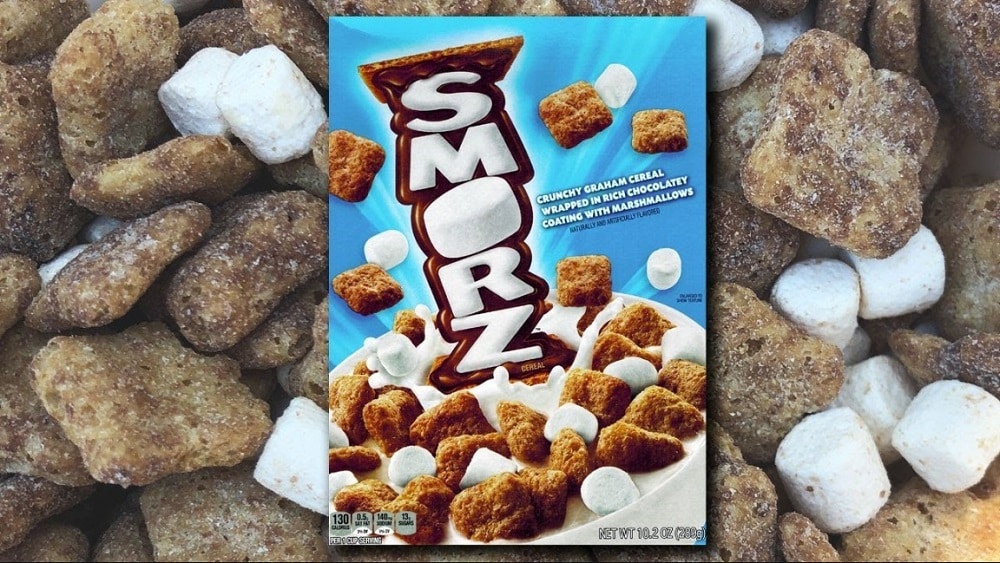 Looking for Kellogg's Smorz cereal? Look no further! This deliciously crunchy graham cereal is coated in rich chocolate and packed with fluffy marshmallows, making it the perfect ingredient for creating the ultimate s'mores experience. Get your hands on a box today and start enjoying the mouthwatering goodness of Smorz.
---
3. Lucky Charms Marshmallows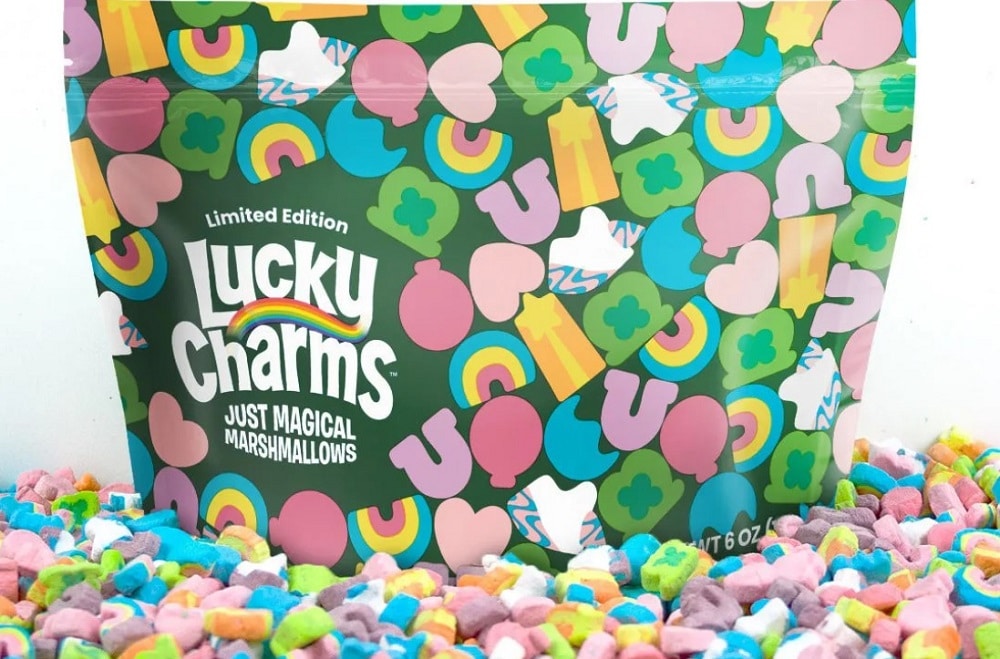 Over the years, Lucky Charms has become a beloved breakfast cereal across the United States. What started as a simple grain with only four marshmallow shapes has transformed into a colorful lineup of shapes and flavors. The original green clovers, orange stars, pink hearts, and yellow moons have been joined by a host of new conditions, including unicorns, rainbows, and red balloons. Lucky Charms offers several varieties today, from the classic original to fruity honey clovers, chocolate, and marshmallow clusters.
---
4. Peeps

Discovering where to purchase Peeps cereal can be a challenge, given its limited edition status that makes it exclusive to the spring and Easter seasons. However, you may find them in your local Target store, which stocks them with a colored chick and bunny marshmallows, unlike the white marshmallows in the image. This cereal has a distinctive marshmallow flavor that sets it apart.
---
5. Marshmallow Mateys

If you're looking for a fun and delicious pirate-themed cereal, look no further than Marshmallow Mateys. Made with frosted whole-grain oat cereal and colorful marshmallows shaped like anchors, gems, and pirates, this cereal is sure to delight both kids and adults. In addition to the original Marshmallow Mateys, the grain has a chocolate flavor for an extra sweet twist. So set sail with Marshmallow Mateys and enjoy a tasty breakfast adventure.
---
6. Space Jam

If you're a fan of the Space Jam franchise and love sweetened cereal with a fruity twist, you might want to try the limited edition Space Jam cereal. However, due to its limited availability, it may not be on the shelves when you search for it. The grain features a delectable berry flavor and includes marshmallows shaped like basketballs for added fun.
---
7. Apple Jacks Cereal With A Marshmallow

This beloved Kellogg's cereal was created in 1965 by William Thilly, an intern at the company's MIT campus. Apple Jacks is a tasty way to start your day with its signature orange and green O's and a new twist of marshmallows. And if you're feeling extra festive, check out their Limited Edition Apple Jacks with Spooky Marshmallows, featuring fun bat, ghost, and mummy-shaped marshmallows just in time for Halloween. So why not add color and flavor to your morning routine with a bowl of Apple Jacks?
---
8. Monster Cereals

Every autumn, stores are stocked with Monster cereals, initially created in 1971 with Count Chocula and Franken Berry as the first flavors. In 1972, Boo Berry was introduced, making it the inaugural blueberry-flavored cereal on the market. Fruit Brute and Fruity Yummy Mummy, which have since been discontinued, were added to the lineup in 1974. Monster Mash was also released to commemorate the cereal's 50th anniversary.
---
9. Marshmallow Cocoa Pebbles

This delicious cereal combines the classic Cocoa Pebbles rice cereal with cocoa-flavored marshmallows, creating a rich and chocolatey taste that will leave you wanting more. Perfectly complementing a glass of milk, Marshmallow Cocoa Pebbles are a great way to start your day. Ready to try them for yourself? Check out your local grocery store to pick up a box today!
---
10. Galaxy Bites Cereal

Experience the taste of the cosmos with Galaxy Bites – a sensational cereal that's truly out of this world! Every bite is a cosmic adventure featuring heavenly caramel comets and a medley of galactic marshmallows. And with Halal verification from the manufacturer, you can indulge in this celestial treat with confidence. Don't miss out – grab your box of Galaxy Bites today!
---
11. Wendy's Frosty Cereal

Kellogg's and fast food giant Wendy's have collaborated to offer you a special treat – Wendy's Frosty Cereal. This cereal is only available briefly, so don't miss out. Indulge in the chocolatey multi-grain balls and chocolate-flavored mini marshmallows that make up this delectable treat. Find out where you can purchase it now!
---
12. Kellogg's Froot Loops With Marshmallows

Kellogg's Froot Loops with Marshmallows is a well-known cereal brand in the United States, loved by many for its classic fruity rings. However, adding colorful marshmallow shapes, including Fruity Flowers, Cool Crystals, Swirly Stones, and Toucan Sam, has taken it up a notch. These "Marshmallow Discoveries" can be found in the fictitious Froot Loops World, making breakfast time an adventure. Grab a box of Froot Loops with Marshmallows from your local grocery store and add a fun twist to your morning routine.
---
13. S'mores

If you're searching for the ultimate s'mores experience without the sticky cleanup, check out Post S'mores. This tasty cereal combines delectable chocolate, classic Honey Maid graham crackers, and sugary marshmallows for a mouthwatering treat. With Honey Maid being the go-to brand for graham crackers when making traditional s'mores, you can trust that this cereal has all the authentic flavors. Plus, if you're a fan of Malt-O-Meal, they also offer a similar cereal under the same name. So go ahead, and indulge in a bowl of s'mores anytime!
---
14. Frosted Flakes With Marshmallows

This delicious cereal combines the classic taste of Frosted Flakes with the added fun of marshmallow shapes, including Power Paws, Tony's Head, Tony's Scarf, and Sweet Swirls. Although not an entirely new concept, this latest version features colorful marshmallows that add a playful twist to your morning routine. This latest version features colorful marshmallows and hit stores in April 2020.
---
15. Elf

Elf cereal is a delicious breakfast delight with sweetened corn puffs, marshmallows, and a maple syrup flavor. The 2021 edition of the cereal even included marshmallows shaped like some of Buddy's favorite snacks, such as candy canes, corn, and syrup. We're hoping General Mills will keep this popular cereal around for future Christmas seasons, as it has become one of our favorite ways to enjoy a marshmallow-packed breakfast delight.
---
Conclusion
Marshmallow cereals have grown in popularity as a breakfast alternative in the United States, with several brands putting marshmallows in their formulations to meet demand. We have listed the 15 top marshmallow bowls of cereal, including Lucky Charms, Froot Loops, Smorz, and others. Each grain has its distinct flavor and twist that fulfills the sweet desire at breakfast.