Looking for a candy bar with a twist? Discover the unique flavor and texture that almonds add to these sweet treats, and try something new today.
When it comes to candy bars, there are countless options available in stores, but not all of them feature the delicious addition of almonds. While peanuts may be more commonly associated with candy bars, almonds add a unique flavor and texture to these sweet treats.
In this article, we've compiled a list of 15 candy bars with almonds that you may not have tried before. From classic brands like Almond Joy and Hershey's with Almonds to newer offerings like Snickers Almond Brownie, there's sure to be a candy bar on this list that will satisfy your sweet tooth. Read on to discover more about these delicious options!
---
The Top 15 Candy Bars for Fans of Almonds
From classic favorites like Hershey's with Almonds and Almond Joy to newer creations like Ferrero Rocher's chocolate bars, there's something for every almond lover to enjoy. Let's now explore the 15 candy bars featuring almonds' rich and crunchy taste.
---
1. Sneakers Almond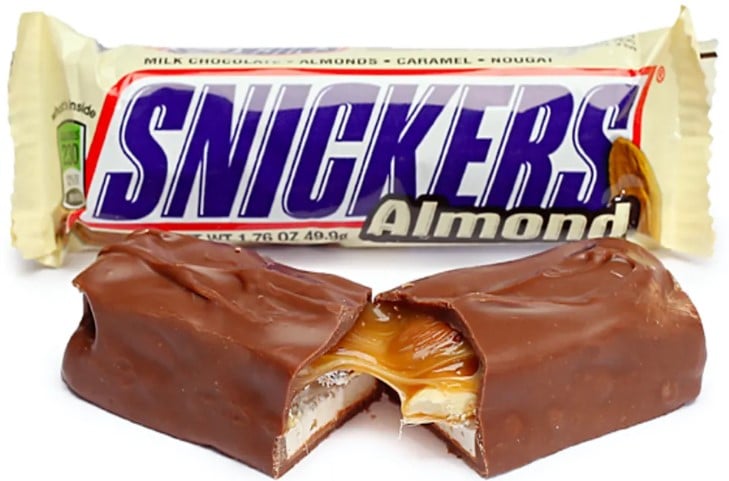 As a connoisseur of the candy world, you may already be familiar with the classic Snickers bar. Its decadent layers of nougat, peanuts, caramel, and milk chocolate have been delighting taste buds for generations. But have you tried the Snickers Almond? This delectable variation takes the indulgence to new heights by swapping out the beloved peanuts for rich and crunchy almonds. With each bite, you'll experience a symphony of textures and flavors that will leave you craving more.
---
2. Health Bar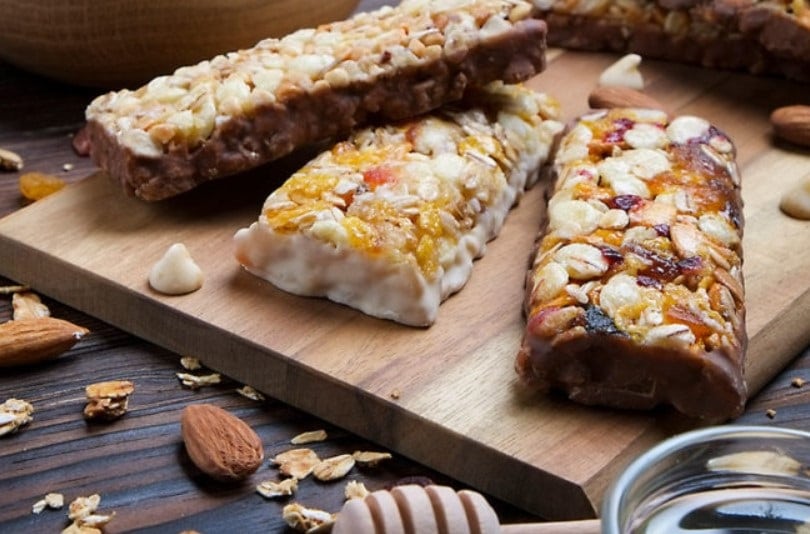 This classic candy consists of a rich toffee studded with almonds, all coated in creamy milk chocolate. It's a treat that's stood the test of time, beloved by candy fans for almost a century.
While the brand has changed hands over the years, the delicious taste of Heath bars remains just as irresistible as ever. Leaf Inc. acquired the brand in 1989, and then the Hershey Company took over when it purchased Leaf Inc. in 1996. Today, you can still enjoy the sweet, buttery goodness of a Heath bar, and savor the subtle crunch of almonds that make it truly unique.
---
3. Hershey's With Almonds
In 1900, The Hershey Company created the classic milk chocolate Hershey Bar. Eight years later, the Hershey's with Almonds variation was born. Today, this treat is still a fan favorite thanks to its simple yet delicious combination of milk chocolate and whole almonds. It's a must-try for almond lovers and chocolate enthusiasts alike.
---
4. The Big Hunk

Annabelle Candy Company, a family-owned candy business with over 70 years of experience, produces the Big Hunk bar. It is composed of honey-sweetened nougat with whole roasted almonds distributed within it. The Big Hunk is a perfect treat for those who truly appreciate the flavor of almonds.
---
5. Almond Joy

Almond Joy is a candy bar that never fails to satisfy the senses, thanks to its creamy coconut filling, crunchy almonds, and exquisite milk chocolate covering. It originally appeared in 1946, when Peter Paul Candy Manufacturing in Connecticut created this masterpiece. Since then, it has captured the hearts of millions of people all across the world, and it is still a fan favorite today. The Hershey Company bought the brand in 1988, and the candy is now made in Stuarts Draft, Virginia, a picturesque village. Take a bite of Almond Joy and you'll be whisked away to a world of pure happiness and indulgence.
---
6. Zero Bar

The Zero bar stands out from other candy bars with its white fudge and rich combination of caramel, peanuts, and almond nougat, alongside crunchy almonds. Hershey's has been producing this unique treat since 1996, but it was originally created in 1920 by Hollywood Brands. Its name allegedly derives from its frosty white appearance.
---
7. Ferrero Rocher's New Chocolate Bars

Ferrero Rocher has expanded its line of premium chocolates with four new candy bars, including one that combines milk chocolate with crunchy hazelnuts and almonds. The bars took three years to perfect, ensuring a high-quality product. Choose from Original Milk Hazelnut, White Hazelnut, 55% Dark Hazelnut, or Hazelnut & Almond.
---
8. Skor

Have you ever noticed how similar Skor and Heath bars are? It's almost as if they're direct competitors, but here's a surprise twist: both candies are actually owned by Hershey. However, Skor was created in 1981 to challenge the popularity of Heath, which was not yet under Hershey's ownership.
Despite their origin story, the Skor bar boasts its own unique blend of flavors that make it a standout treat. With a rich and buttery toffee center featuring crunchy almonds, all coated in smooth milk chocolate, Skor is a candy bar that's sure to satisfy your sweet tooth cravings.
---
9. Hershey's Symphony Almonds & Toffee

Discover the indulgent Hershey's Symphony – a creamier rendition of the classic Hershey's bar that debuted in 1989 as the brand's first new milk chocolate bar in nearly a century. Satisfy your cravings with Symphony Milk Chocolate with Almonds and Toffee, a delightful and flavorful snack.
---
10. 100 Grand Bar

Experience the ultimate blend of chewy caramel, crisp rice, and rich milk chocolate in 100 Grand bars – the quintessential American chocolate. Indulge in the irresistible flavors that elevate every moment of your day. Carry a few bars in your pocket or purse to savor their decadent goodness on the go.
---
11. Waterbridge Milk Chocolate Almond Bar

Waterbridge, a Canadian confectionery company, offers a delectable treat – the Belgian Milk Chocolate Almond Bar. This chocolate bar is made in Belgium and contains plenty of roasted almonds to satisfy your cravings. Don't worry; you won't be left feeling shortchanged with this delicious treat.
---
12. Almonds Of Cadbury Dairy Milk Chocolate

Discover the rich history of Cadbury, the British confectionary brand established by John Cadbury in 1824 in Birmingham. While most Americans recognize the brand for their Cadbury Chocolate Creme Eggs during Easter, Cadbury's Dairy Milk Chocolate with Roasted Almonds is a classic candy bar loved by many.
Owned by Mondelez International and licensed by The Hershey Company in the US, Cadbury also produces the Darkmilk with Roasted Almonds, a dark chocolate version of the classic bar. However, finding it in the States can be a challenge.
---
13. Mars Almond

Unleashed in the UK in 1932, the Mars Bar soon conquered the world, albeit under different monikers. Its exclusive blend of nougat and caramel coated with milk chocolate is what sets it apart from other chocolate bars. With production in more than 100 countries, the Mars Bar is a global phenomenon. However, the US variant lacks caramel. In Scotland, the infamous deep-fried Mars Bars can be purchased in select fish and chip shops, though the taste may require some getting used to.
---
14. Toblerone

In 1908, Theodor Tobler and his wife created Toblerone, a chocolate bar with distinctive triangular peaks resembling the Swiss Alps. Its recipe comprises Swiss milk chocolate, almond nougat, and honey. The candy bar's name originates from Theodor's last name.
---
15. Brownie and Candy with Snickers Almond Brownie

Indulge in the Snickers Almond Brownie, a delightful fusion of a brownie and a candy bar with chopped almonds, a caramel layer, and a dark chocolate coating. This new 2021 release is a must-try for those who crave something unique. If you're a fan of peanuts, Snickers also offers a Peanut Brownie option.
---
Conclusion
Many different candy bars incorporate almonds, offering these sweet treats a unique flavor and texture. From classic options like Hershey's with Almonds and Almond Joy to newer varieties like Snickers Almond Brownie and Ferrero Rocher's chocolate bars, there's sure to be a candy bar on this list that will satisfy your sweet tooth and your love of almonds.