Fruit Snacks remain to be popular because of their fruity sweet taste. Among the different brands in the markets are the Mott's and Welch's. Do you know their differences? If you need to, then you have come to the right place. Here is a Mott's vs. Welch's Fruit Snacks: Comparative Guide.
Who does not love Fruit Snacks? They are the favorite snacks for most families. You can pack them for lunch, your kids' play dates, or any outdoor activity. The Mott's and Welch's Fruit Snack are popular brands you may have heard of or even eaten.
Did you notice any difference in them? If not, read Mott's vs. Welch's Fruit Snacks: Comparative Guide to know what differentiates them.
---
1. Nutritional Information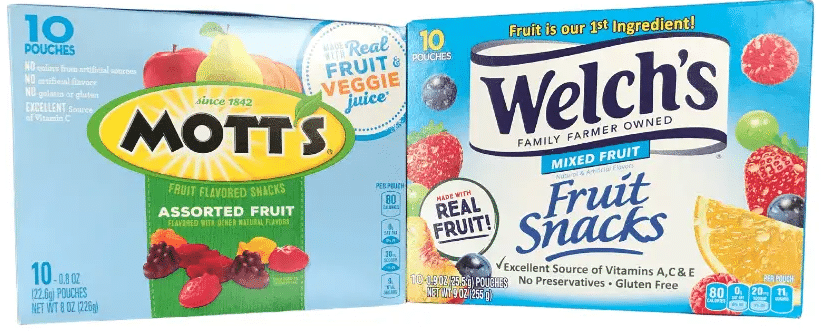 A 23g of Mott's and 25.5g of Welch's fruit snack contain 80g calories and no fats. The difference is that the Mott's has 30mg of sodium, 9g of sugars, 54mg of Vitamin C, and no proteins.
The Welch's pack has 20mg of sodium, 11g of sugars, 1g of proteins, and 23mg of Vitamin C. Moreover, this pack has natural fruits, unlike the Mott's.
---
2. Physical Appearance
A pack of Welch's fruit snacks weighs 0.9oz, while the Mott's bag weighs 0.8oz. Welch's brand has more fruit snacks than the Mott's, but they are smaller when compared to the Mott's.
If you are keen, you will see that the Mott's are shinier than the Welch's and have a more defined shape, unlike the Welch's.
---
3. Ingredients
The main ingredient in the manufacture of the Welch's is fruit puree, while the Mott's use corn syrup as its primary ingredient. There are eight common ingredients in these two snacks. They include:
Carnauba wax
Natural Flavors
Turmeric and Annatto color extracts
Sodium Citrate
Vitamin C (Ascorbic Acid)
Corn Syrup
Citric Acid
Improved Corn Starch
Other elements in Mott's Fruit Snacks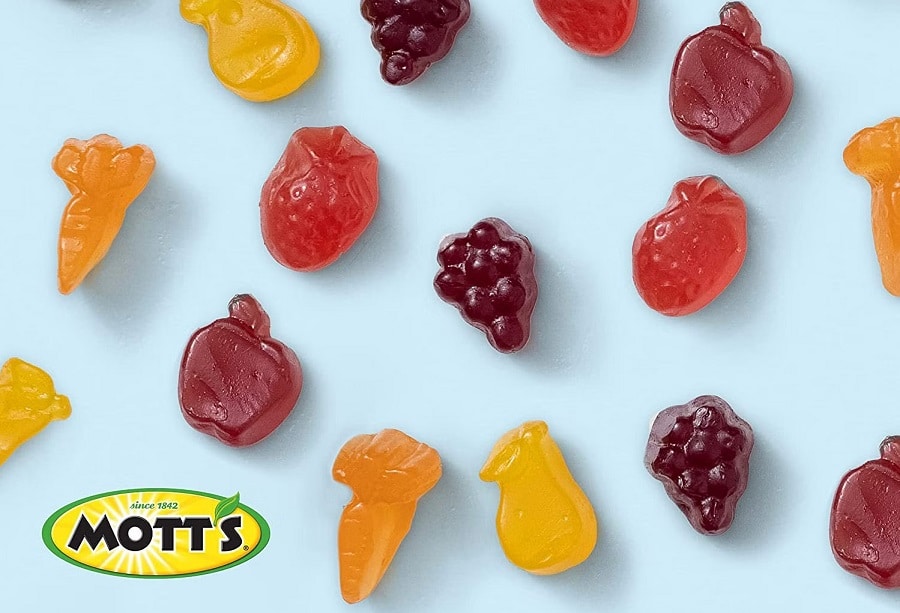 Pear, sweet potato, and Apple juice concentrate
Malic Acid
Sunflower oil
Fruit juice color
Extra ingredients in Welch's Fruit Snacks
Fruit puree grape, orange, Raspberry, strawberry, and peach
Vitamin A and E
Lactic Acid
Gelatin
Concord grape juice
Coconut oil
Red 40
Palmitate
---
4. Cost
Two main factors affect the price of fruit snacks: the store you will buy from and the package size. For instance, Amazon and Walmart.com sell the 0.9oz Welch's mixed fruit family size pack" at $8.48, while eBay sells the same product at $17.96.
---
5. Manufacturer

The Mott's Fruit Snack is a Dr. Pepper Snapple Group product in Texas, USA. The General Mills Inc. Dr. Pepper group manufactures and sells Mott's Fruit Snack. At the same time, General Mills plays the role of marketing and licensing.
Welch's Foods Company manufactures Welch's Fruit Snacks, jams, juices, and grape jellies. This company has its headquarters in Concord, Massachusetts, and the national grape cooperative association owns it.
---
What is Carnauba Wax used In Welch's and Mott's Fruit Snacks?
Carnauba wax is known as "Palm wax" or "Brazilian wax." The wax is from the palm leaves of the copercinia cerifera plant that grows in the Northeast regions of Brazil. Carnauba wax keeps the Welch's and Mott's Fruit Snacks firm without melting and makes them appear shiny.
---
Welch's Fruit Snack Health Benefits.
Welch's Fruit is a healthy snack because it uses natural fruits as its primary ingredient. Fruits provide the body with Vitamins A, C, and E.
Vitamin A is suitable for building the immune system, good vision, and body growth and development.
Vitamin C increases iron absorption, boosts immunity, and helps lower blood pressure.
Vitamin E helps to improve vision and is suitable for your skin.
Another reason is that they do not have fats, preservatives, and gluten.
---
Which Gelatin Does Welch's Fruit Snacks Have?
Welch's Fruit Snacks use both beef and pork gelatin. But why do Frit Snacks use gelatin? A fruit snack melts or dissolves slowly in your mouth, allowing you to enjoy the fruit flavor for some time because of the gelatin.
---
Welch's Fruit Snack Vegan Flavors

Welch's three vegan flavors you can choose from if you are vegan are:
Welch's Tropical Punch
Welch's Berry Fruit Snack
Welch's White Grape Strawberry Fruit Snack
---
Mott's Fruit Snacks Flavors.

There different Mott's Fruit Snack flavors are:
Tropical Fruit Flavor
Strawberry flavor
Blue Berry flavor
Assorted Fruit with and without Fiber flavor.
---
The 5 Welch's Fruit Snacks Flavors.

Welch's Fruit Snacks don't have the same flavor. Here are five different flavors you can choose from:
Peach
Grape
Orange
Strawberry
Raspberry
Remember, it's not guaranteed that you will find all five flavors in one packet; they are randomly distributed in the package.
---
Do Mott's Fruit Snacks Expire?
Yes, unopened Mott's Fruit Snacks expire one year after their manufacture. The best way to know if a Fruit Snack is safe to consume is by checking the expiry date on its package. Some may still be good after the expiry date, but the taste and flavor may have changed.
After you open the Fruit Snacks package, you can expect them to go bad seven days later. But, if you refrigerate them, they will stay fresh for longer.
---
Is Mott's Fruit Snacks Good for You?

Mott's Fruit Snack may not be the best choice if you are looking for a healthy snack. This Fruit Snack has high sugar levels that may harm your teeth and increase the risk of diabetes.
Unlike Welch's Fruit Snack, which has natural fruits, Mott's uses artificial flavors that are unsafe for people with allergic reactions. But they have Vitamin C and Fiber, which plays a crucial role in preventing constipation.
---
Is There Food Dye in the Welch's Fruit Snacks?
Yes, Welch's Fruit Snacks contain food dye. The ingredients list for Welch's Fruit Snacks typically includes fruit juice concentrates, corn syrup, sugar, modified corn starch, gelatin, and natural and artificial flavors. Additionally, the product may contain various food dyes to enhance the appearance of the fruit snacks. Some common food dyes used in fruit snacks and other products include Red 40, Yellow 5, and Blue 1. If you have specific concerns about food dyes or other ingredients in Welch's Fruit Snacks, consult the product label or contact the manufacturer directly.
---
Conclusion
The Welch's Fruit Snack is healthier than the Mott's because it has natural fruits. But, consume it in moderation as it contains artificial dyes that are not good for your body. Mott's Fruit Snacks uses fruit juice concentrate for its flavors. Its primary flavors are strawberry, assorted fruit flavor, tropical fruit flavor, and blueberry flavor.