If you love candy, then you know the debate: Mike and Ike or Good and Plenty? This article provides a comparative guide to these two classic treats, analyzing their flavor, texture, and popularity to present a definitive verdict.
What makes up the perfect everyday candy? If you love candy as much as we do, you may find yourself engaging in the age-old debate: Mike and Ike or Good & Plenty. Both brands are incredibly popular and beloved, but which one is better? Which candy is ideal for your upcoming date night or special event? Which one should you go for when you're craving a sweet treat? This post will evaluate the two brands head-to-head, contrasting their taste, texture, and packaging. If you're stuck between the two, this comparative guide is here to help you make the best decision!
---
A brief overview of Mike and Ike and Good & Plenty
Mike and Ike and Good & Plenty are two of America's most beloved candy brands. They have been around for decades and have become part of our culture. To give you  a brief overview, here's what you need to know about these two iconic candies: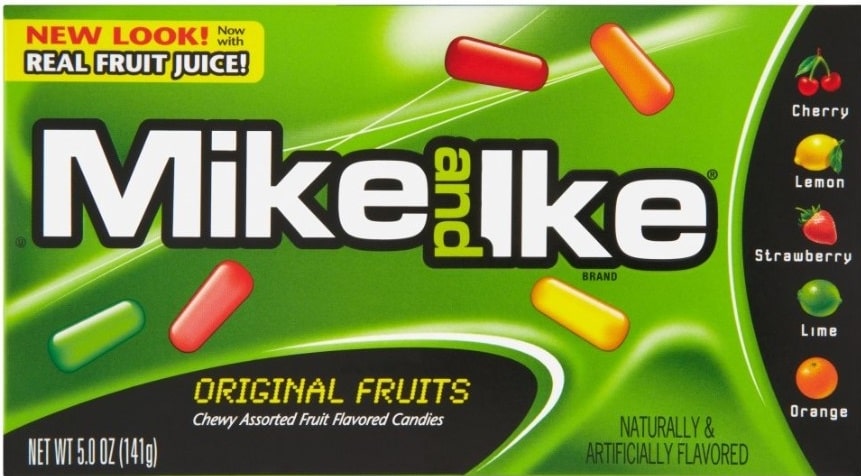 Mike and Ike are chewy candies widely recognized for their signature fruit flavors. The brand was first introduced in 1940 by Just Born, Inc. Although the origin of the candy's name is unknown, its popularity has endured for decades. Originally, the candies only came in fruit flavors, but the brand has since introduced various varieties of flavors to its product line. Mike and Ike's candies are easily recognizable thanks to their characteristic oblong form and brightly colored packaging.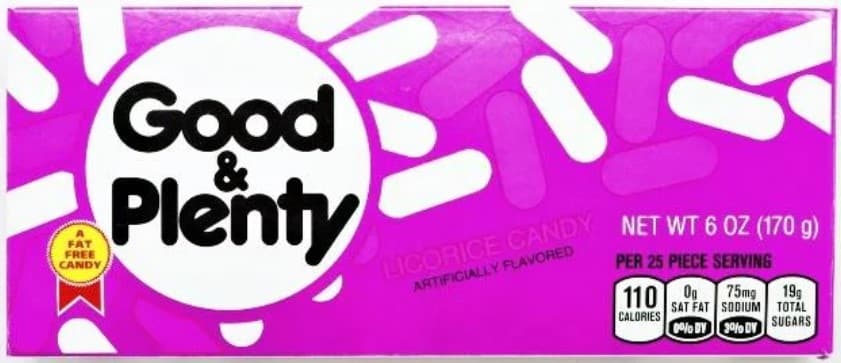 Good & Plenty is a popular licorice candy that has been around for over a century. The candy is cylindrical with a black licorice center and a hard candy shell that comes in a distinctive pink and white color. Good & Plenty was first produced in 1893 by the Quaker City Chocolate & Confectionery Company in Philadelphia, Pennsylvania, and is considered the oldest branded candy in the United States. Over the years, the candy has been owned by several companies, including Warner-Lambert and Leaf Candy Company, which Hershey Foods eventually purchased in 1996.
---
Comparison of Flavors and Varieties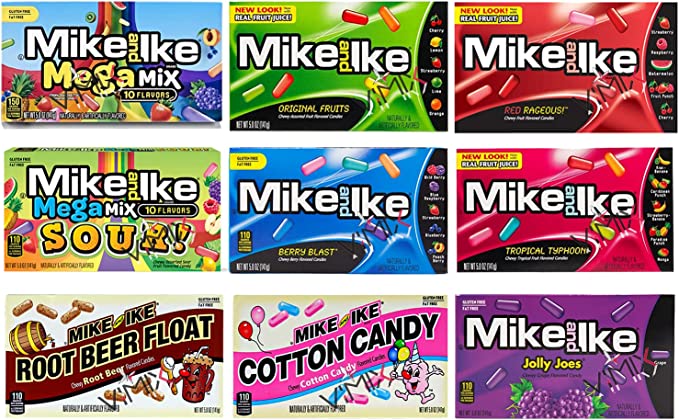 So, which candy packs the most flavor? The following is a comparison of the two candies to help you decide which one suits your taste buds:
Although the bright green box is what most people associate with the brand, there are a plethora of Mike and Ike candies, some of which have a single flavor while others feature a combination of flavors. The followings are the top five Mike and Ike flavors:
Original Fruits: Mike and Ike's most popular candy with classic lemon, cherry, lime, orange, and strawberry flavors in each box.
Mega Mix: A mix of almost everything, boasting ten different flavors for consumers who crave true variety.
Tropical Typhoon: A tropical mix containing five flavors with a sweet chewy texture, including mango, kiwi-banana, paradise punch, Caribbean punch, and strawberry banana.
Sour Mega Mix: A 10-pack mix of sour candies, perfect for anyone who loves sour flavors, with varieties like Sour Zappin' Apple and Sour Power Pineapple.
Cherry: Mike and Ike's classic bright red, fruity cherry flavor that's also available as a dedicated cherry-only mix.
Good & Plenty
Whereas Mike and Ike may be found in a wide variety of flavors, Good & Plenty has stuck with only one, licorice, since it was first introduced in 1893. Despite widespread adoration for the Good & Plenty flavor, some people favor the variety of Mike & Ike.
Pro Tip(s):
If you prefer a more realistic fruit flavor with a chewy texture, Mike and Ike, with its fruit juice content, maybe the better option. However, Good and Fruity may be the more favorable option if you prefer a dissolving factor and easier chew with a sour, tart flavor.
---
Comparison of Ingredients
The quality of the ingredients used in candy is a crucial consideration when shopping for the best treatment. Here's a breakdown of the differences between the contents of Mike and Ike and Good & Plenty:
Mike and Ike
The following are some of the ingredients used in Mike and Ike:
Sugar
Corn Syrup
Modified Food Starch
Citric Acid (less than 0.5%)
Malic Acid (less than 0.5%)
Fumaric Acid (less than 0.5%)
Sodium Citrate (less than 0.5%)
Natural and Artificial Flavors
Dextrin
Confectioners Glaze
Carnauba Wax
Medium Chain Triglycerides
Red #40
Yellow #6
Yellow #5 (Tartrazine)
Blue #1
Good & Plenty
The following are some of the ingredients used in Good & Plenty:
Sugar
Corn Syrup
Enriched Wheat Flour (flour, Niacin, Ferrous Sulfate, Thiamin Mononitrate, Riboflavin, Folic Acid)
Licorice Extract
Gum Acacia
Cornstarch
Salt
Natural Flavor
Artificial Flavor
Rice Starch
Artificial Color (k-carmine, Red 40 Lake)
Caramel Color
Confectioners Glaze
Carnauba Wax
---
Comparison in Appearance
Here are the differences between Mike and Ike and Good and Plenty based on appearance:
Mike and Ike

Colors include red, yellow, pink, green, and orange.
Each color represents a different flavor.
The featured image on the top of the box shows the different flavors for each color.
Good & Plenty

Hard outside shells come in white or pink.
Narrow cylinder shape.
Coated in a hard candy shell to form a capsule shape
Colored bright pink and white
Presented in a purple box or bag
---
Which Of the Two Candies Tastes Better?
The choice between the two legendary candies, Mike and Ike and Good & Plenty, boils down to individual taste. However, if you are looking  for a side-by-side comparison, here is a breakdown of the two:
Mike and Ike

Original Fruits variety includes five distinct fruity flavors: cherry, lemon, strawberry, lime, and orange.
Flavors are easy to distinguish and taste, like their intended fruit.
Candies have a combination of textures —a slightly hard sugary coating on the outside with a chewy interior.
Offers a range of other flavors, such as Berry Blast, Tropical Typhoon, and Sour-Licious.
Releases limited-edition flavors throughout the year.

Good & Plenty

Offers only one flavor – licorice.
Licorice flavor may not appeal to everyone, limiting the potential audience for the candy.
Mike and Ike have an advantage over Good & Plenty when it comes to the variety of flavors, providing a diverse and satisfying candy-eating experience.
---
Bottom Line
So, which of the two candies is better? Ultimately, it comes down to personal preference.  However, if you are looking for options in flavor and texture, Mike and Ike are a great choice, as they have more flavors and a chewy texture. Good and Plenty is still a  classic, however, and is great for those looking for a hard candy with a long-lasting flavor. We hope you found this comparison of Mike and Ike and Good and Plenty entertaining and informative—now you know which candy to go with when you're looking for a classic, fruity treat!