Kellogg's and Post are the most popular manufacturers of raisin bran cereals. They are both loved for their sugary contents and their comprehensive mineral composition. While the two brands look similar and even come in purple boxes bearing the description "Raisin Bran" on their boxes, Kellogg's and Post are two different brands with varying nutritional benefits.
So, which one is the best among the two brands? Here is a complete Kellogg's vs Post raisin bran comparative guide to help you determine which of the two will suit you best!
---
Kellogg's Rasin Bran vs Post Raisin Bran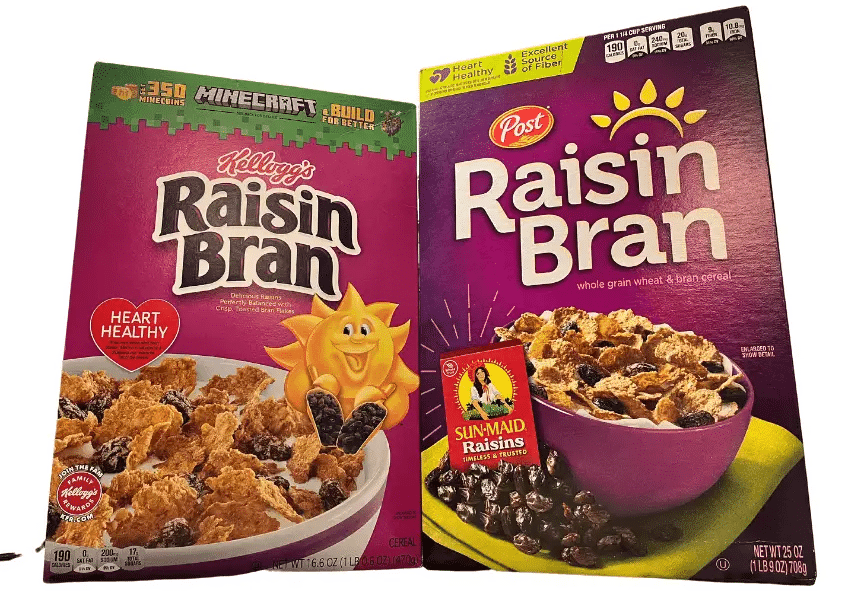 Appearance
Kellogg's raisin bran has some pleasantly measured bran flakes and raisins. The sizes of the bran flakes and raisins are intended to make the Kellogg's fit for people of different ages,
On the other hand, Post raisin bran has larger bran flakes and countable raisins. The large size of the flakes and the low number of raisins makes it an ideal cereal choice for adults.
Taste Test
Kellogg's is the best cereal with raisins. It has a significant number of raisins per package and good-sized bran flakes coupling the sweetness of the brand.
Post Raisin Bran is, however, not that sweet and flavors compared to Kellogg's, and this is because the former has a low number of raisins. The large sizes of the bran flakes also make them unattractive to young stars compared to condensed Kellogg's flakes.
While Kellogg's has the best taste, Post Raisin Bran is not a weak cereal. It, however, comes second-fiddle when compared to Kellogg's. Even so, people who prefer low sweet bran flavor will consider the Post Raisin Bran.
Nutritional Value
There are no significant nutritional differences between Post Raisin Bran vs Kellogg's Raisin Bran analysis. But if you're looking for higher carbs, sodium, and total sugars, consider Post Raisin Bran. Here is a detailed chart of the nutritional similarities and differences;
| | | |
| --- | --- | --- |
| | Kellogg's Raisin Bran | Post Raisin Bran |
| Serving size | 1 Cup (59g) | 1-1/4 Cup (61g) |
| Saturated Fat | 0g | 0g |
| Trans Fat | 0g | 0g |
| Calories | 190 | 190 |
| Cholesterol | 0mg | 0mg |
| Total fat | 1g | 1g |
| Polyunsaturated Fat | 0.5g | 0g |
| Monounsaturated Fat | 0g | 0g |
| Sodium | 200mg | 240mg |
| Total Carbohydrate | 47g | 48g |
| Dietary Fiber | 7g | 9g |
| Included Added Sugars | 9g | 9g |
| Total Sugars | 17g | 20g |
| Protein | 5g | 5g |
| Vitamin D | 0mcg, 0% | 2 mcg, 10% |
| Calcium | 20mg, 0% | 30mg, 2% |
| Potassium | 280mg, 6% | 340mg, 8% |
| Iron | 1.8mg, 10% | 10.8mg, 60% |
| Vitamin A | – | 35% |
| Vitamin B6 | – | 90% |
| Vitamin B12 | – | 90% |
| Niacin |             15% | 40% |
| Pantothenic Acid | | 10% |
| Folate | – | 360 mcg DFE (215 mcg folic acid), 90% |
| Magnesium | 15% | 25% |
| Phosphorus | 10% | 20% |
| Zinc | 10% | 30% |
| Selenium | 10% | – |
| Copper | 20% | 30% |
| Manganese | 80% | – |
Ingredients
The primary elements of the two raisin brands are similar. Both have;
Whole Grain Wheat
Raisins
Wheat Bran
Sugar
However, the Post Raisin Bran contains more unique ingredients; Salt, Wheat Flour, and Malted Barley Flour. On the other hand, Kellogg's Raisin Bran has a special sugar; Brown Sugar Syrup.
Price
Different leading stores price these two types of raisin brans differently. Check the average prices below;
| | | |
| --- | --- | --- |
| Store | Kellogg's Raisin Bran (24 oz. Box) | Post Raisin Bran (25 oz. Box) |
| Walmart | $4.68 | $4.28 |
| Kroger | $5.49 | $4.49 |
| Meijer | $4.59 | $3.49 |
| Dave's Super Duper | $4.45 | $5.79 |
| Target | $4.29 | not available |
| Smart & Final | not available | $4.99 |
| HEB | $4.82 | not available |
| Schnucks | Not available | $4.39 |
According to the data above, you're likely to pay more for Kellogg's Raisin Bran compared to Post Raisin Bran.
---
Benefits of Eating Raisin Bran Cereals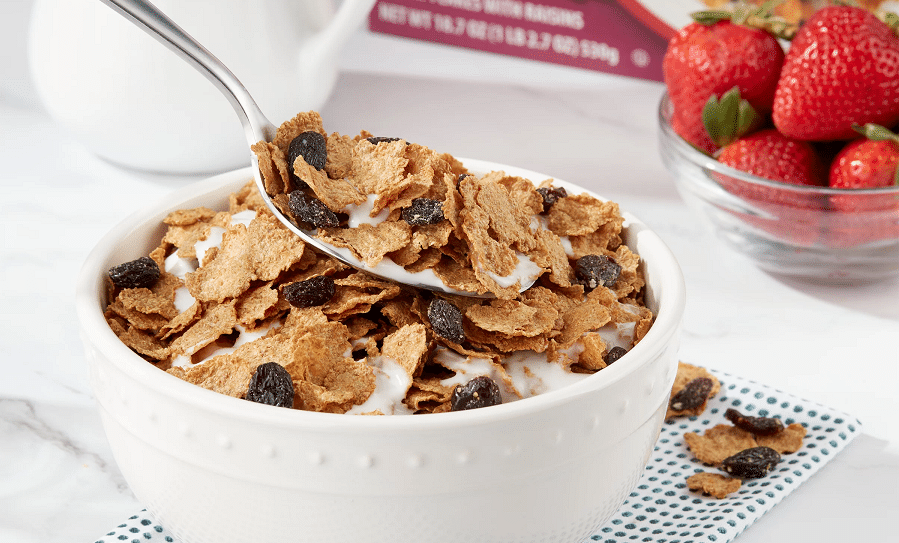 Raisin bran cereals have several benefits, which include the following;
Energy Source
Raisin bran cereals supply the energy you'll need for your daily activities. The cereal is rich in carbohydrates and has sugars that will give you more energy. Thus, it also fits as a good afternoon snack besides taking it for breakfast.
High in Fiber
The daily recommended fiber intake is about 30 grams. However, most people can consume only half the recommended amount in a typical day.
A single portion of raisin bran cereal will meet about one-sixth of the required minimum intake. The primary source of the one-sixth fiber comes from wheat and bran ingredients found in the raisin bran.
Sufficient fiber is essential for digestive health as it promotes bowel regularity. It also protects against colon cancer and lowers your risk of heart disease and type 2 diabetes, among other chronic diseases. Looking to control your weight? Adequate fiber intake will keep you full for longer hours, thus reducing your food intake.
Rich in Micronutrients
A serving of raisin bran (60 grams) is a rich source of essential vitamins and minerals. Most of these micronutrients are introduced to the cereals through fortification- adding vitamins and minerals (that were absent) in food to make it nutritious.
Kellogg's and Post Raisin Bran both offer different amounts of micronutrients. Thus, before settling for either of them, go through the nutrition label to settle for the best product that will offer you the micronutrients you need.
---
Downsides of Eating Raisin Bran Cereals
Even though raisin bran cereals are a good source of nutrients, energy, and fiber, this food item has high constituents of added sugar and refined carbs. Such ingredients can expose you to diabetes and other chronic diseases. Additionally, eating foods high in sugar can also lead to cavities.
---
Precautions to Observe When Eating Raisin Bran Cereal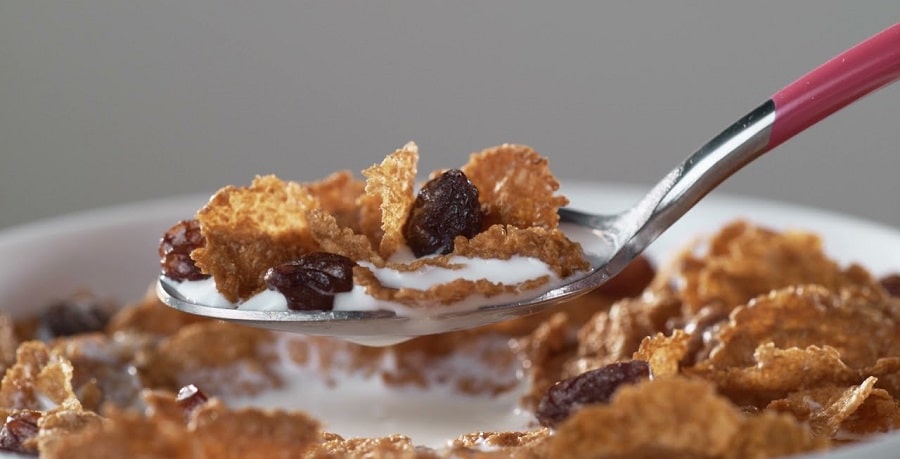 Raisin bran cereals have their pros and cons. Therefore, you must take the cereal with a lot of precautions. If you are considering it for your daily breakfast;
The cereal has high sugar levels: Don't add sugar or consume the cereal with other sugary food products; otherwise, you might expose yourself to diabetic symptoms. Moreover, raisin bran cereals are rich in carbohydrates which is not encouraged for diabetic patients.
Raisin bran has high sodium content. High sodium food contents can expose you to high blood tension risks if taken in large quantities. Hypertension patients should avoid consuming raisin bran cereals.
---
Final Verdict: Post Raisin Bran vs Kellogg's Raisin Bran
Both Post Raisin Bran and Kellogg's Raisin Bran are healthy cereals but have different nutritional values, tastes and even come at different prices. If you're looking for tasty and sized cereals, Kellogg's Raisin Bran is best for you! However, if you want less sugar, more carbohydrates, and fiber, the Post Raisin Bran is your perfect choice! Regardless of your choice, remember to take them with moderation!