Every kitchen is complete with a knife, so going for the best knife brands is essential. Having a good knife not only affects the appearance of your food but also your safety. But with the many available brands, it can take time to choose the best knife. The article will guide you through the 12 best kitchen knife brands under $50 to make your purchase easy. These brands will give you the best service, even on a tight budget.
Even though affordability and quality rarely intersect perfectly, the knife brands listed below offer both. The brands meet customers' requirements by providing high-quality knives in suitable sizes at affordable prices below $50. Before purchasing, you must consider other factors like handle material, blade metal, and a knife brand's self-sharpening features. These knife brands offer the best quality features at affordable prices. Read on.
---
1. Farberware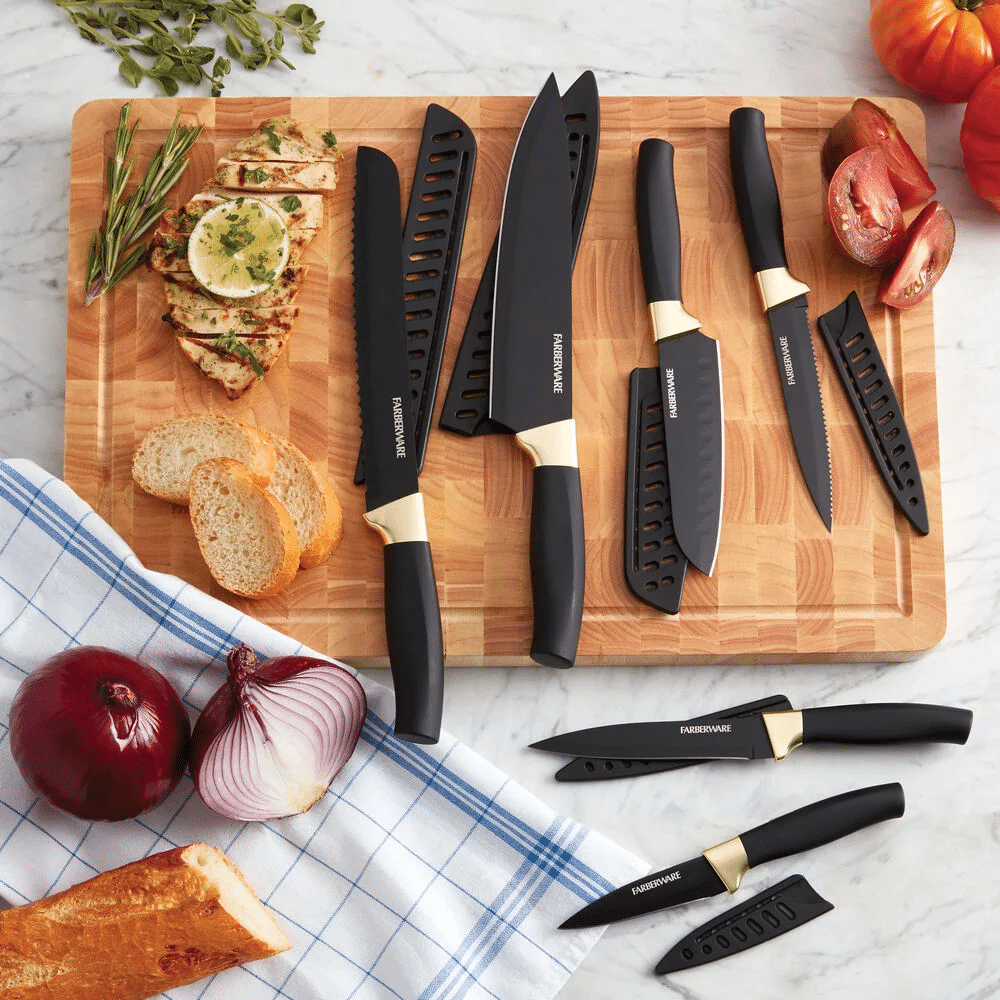 Farberware provides some of the best knives for cooking enthusiasts. The brand makes knives sharp enough for standard at-home tasks, including dicing vegetables, cubing meat, and slicing bread. The blades are made from stainless steel, making them strong and sharp for extended periods. The knives are affordable, and a 15-piece block set can cost around $50. On sites like Amazon, you can purchase 22 pieces of this brand for $20.
Features
Made of stainless steel
Are sharp
They are of high quality.
---
2. Cuisinart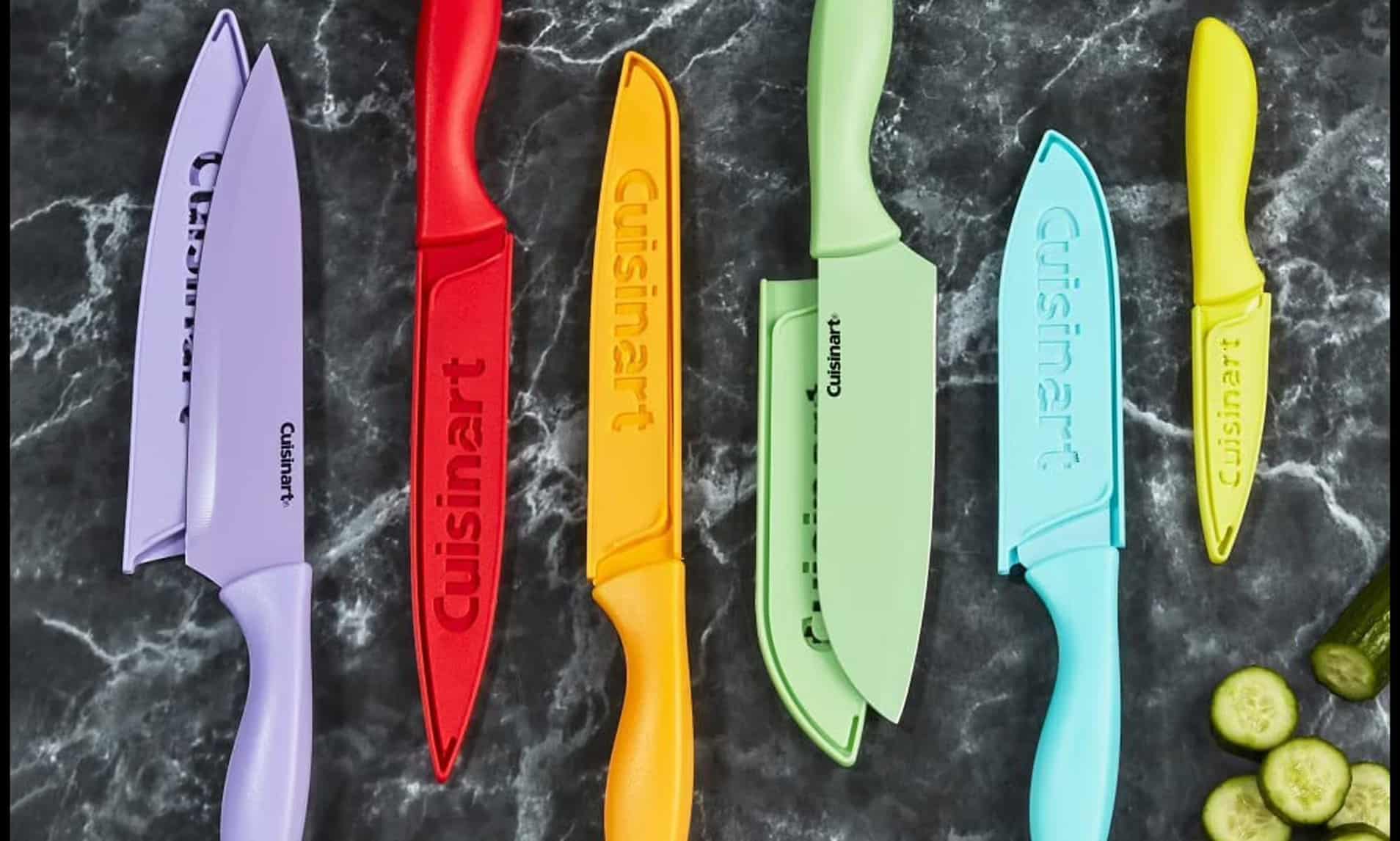 Though affordability always raises quality concerns, this brand is different by offering high-quality knives at affordable prices. Cuisinart has an excellent reputation for making typically more robust kitchen appliances across multiple brands, giving you a firmer grip on the blade. Their prices, however, vary depending on the set of knives you choose. The brand sells knives at different prices, including the Cuisinart walnut-handled 14-piece set for less than $50.
Features
Have handled and blade upgrades that suit different cooks.
Incorporates Japanese techniques for blade finishing.
The knives are nitrogen fused
---
3. Schmidt Brothers


Schmidt Brothers is a knife brand that has made a name for itself in the industry. The brand offers a variety of kitchen knife sets and functions. These knives are the most expensive due to their matching quality. The brand has, however, ensured that everyone can afford their knives. They offer pairing knives in a two-pack for $40. Even with the variable pricing of this brand, it has enough bells and whistles.
Features
Have stainless steel blades
The knives are of high quality.
The designs display luxury and simplicity.
---
4. Mercer Culinary


Mercer Culinary is a US-based brand that produces affordable and high-quality knives. Their knives are made from high-carbon stainless steel and are hand sharpened to ensure a razor-sharp edge. They also have ergonomic handles that provide a comfortable grip and reduce hand fatigue. The knives, renowned for their longevity and durability, are frequently used by professional chefs.
Features
They are of high quality.
Have ergonomic handles
The blades are made of stainless steel.
---
5. Victorinox


Victorinox is a Swiss brand well-known for producing high-quality knives at affordable prices. The blades are designed with outstanding craftsmanship, making them a natural beauty in the kitchen. The brand has also invested itself in the culinary world to ensure it provides affordable and durable knives that can withstand the punishment of a commercial kitchen. Despite the high quality, the brand sells knives for around $50.
Features
It can be used commercially.
Have great craftsmanship.
They are of high quality.
---
6. Santoku Mad Shark


Santoku kitchen knives are a brand that offers quality and beauty. The brand provides high-quality knives made of stainless steel that can resist discoloration, rust, and corrosion. The blades are razor-sharp and easy to maintain, making chopping and cutting look like a breeze. Their knives' handles are reliable and comfortable; you can engineer them to protect your fingers.
Features
Offer varying prices, with the lowest price being $32.
The knives have beautiful designs.
They are super sharp.
---
7. Kutt


Besides producing excellent knives, the brand is trustworthy and has a good reputation. They offer affordable quality knives, with pricing that varies. The handles of these knives are comfortable, and once you hold them, you will feel the courage, power, and capability to cut evenly and smoothly.
Features
Meant for professional cutting
It gives you complete cutting control.
The carbon stainless steel protects it from
You can cut hard meat with ease.
---
8. Mac MTH


The Mac MTH brand offers high-quality knives that can be used professionally for extended periods. If you want a knife that you can use to cut for the longest time while learning your culinary skills, this will be the best brand. The blades from this brand are made of sharp stainless steel and can perform tasks without giving fatigue to your fingers or hands.
Features
Lightweight
The carbon coating makes them rust resistant
They are made for professional commercial use
---
9. Zwilling


The Zwilling knife brand offers high-quality knives with the right balance and sturdy bolster that acts as a finger guard. The brand has gained worldwide recognition with its impressive knives. Their blades are made with fusion blocks with high levels of carbon, making them free from rust and corrosion.
Features
Offers sigma-forge one-piece precision construction
Corrosion and rust free
Super bolsters add balance.
---
10. Shun


Though known for high-quality and relatively expensive knives, the brand has ensured that everyone can afford its quality knives with different pricing. The brand makes kitchen blades that are fit for any cooking specialist. The edge is of pure honing steel that looks sparkly and beautiful. The blades are also made of high-carbon stainless steel, which makes them susceptible to corrosion and rust.
Features
Water-resistant
The blade edge is very sharp.
The blade is hand polished
---
11. TUO DAMASCUS


TUO DAMASCUS is a Japanese-based kitchen knife brand that offers proper equalization and challenging support that protects your finger during a cut. The blades from this brand are made with three handles, conveying an ideal execution. The cutting edges are a combination of elevated levels of carbon and devilish sharpness.
Features
Gives constant cutting
The blades are rust and corrosion resistant
The design of the knives is modern.
---
12. Benshusch
Benshusch is a well-known brand for providing high-quality knives at affordable prices. The prices of these blades vary due to their high quality, and there is a knife brand for everyone on any budget. The brand offers reliable, professional, and classic knives that can be used commercially.
Features
The handle gives you complete cutting control.
Can cut through hard meet easily
It accompanies a reward finger gatekeeper.
---
Conclusion
Finding a high-quality knife that fits your budget can be daunting, but with the brands above under $50, you can have the best of both worlds. From traditional to modern designs, these knives are made with quality materials and expert craftsmanship, ensuring their durability and longevity.