Not all socks are the same, but what brands can give me value for my money? With a range of companies in the textile industry, most of them have socks in their product line. However, choosing the best can be a real struggle. We have narrowed down a few 12 best brands of socks to help you make a quick choice. Check below!
When we talk of socks, what lingers in most people's minds is "Socks for Men." But we disagree with that. Socks are a must-have for men, women, and kids. They complement any outfit and add some personality to your look. Moreover they keep your feet warm and comfortable for just a few dollars. Socks come in multiple designs, prints, cuts, and colors. Here are a few best brands of socks;
---
1. Bombas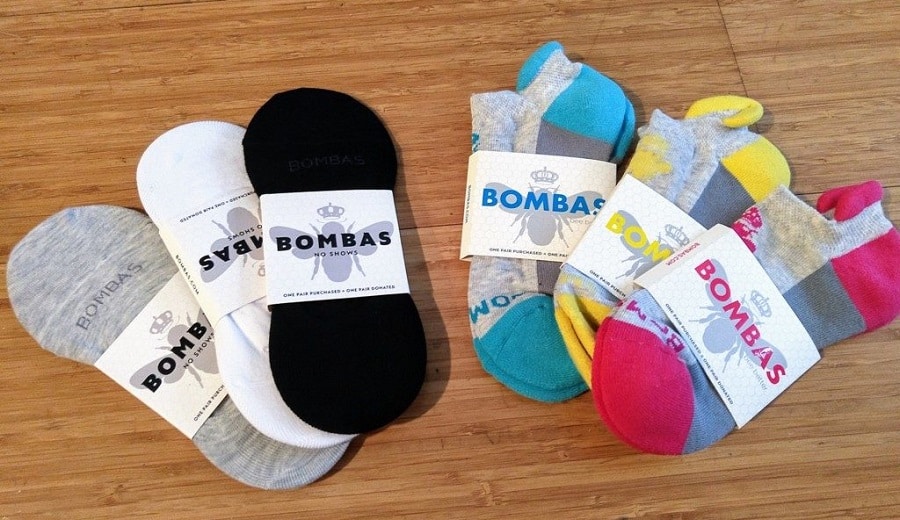 It is the best overall.
Bombas socks are an excellent match for that stylish look. The company offers a wide selection of styles, so you will always find one that suits your taste. The brand considers every occasion since they produce a variety of socks from official, athletic, and dressy ones, name them. Better even, Bombas socks are of high quality that will last.
Bombas socks are designed with a seamless toe and ultra-soft cotton. They are supportive, cushioned, and breathable for extra comfort. Did I mention that; the brand was founded by David Heath and Randy Goldberg? If you know the popular Shark Tank episodes? They featured on one of the episodes back in 2014. Their aim for starting this product line was to raise donations for the homeless from the initiative; for each pair sold, one is donated.
Features
The brand has a vast collection of colors, prints, and patterns suitable for every occasion; hiking, office wear, indoors, and sports.
Over 70 million donations have been made so far from their donation initiative.
They are high quality and are made from a blend of cotton polyester and spandex to offer comfort.
They offer free shipping for purchases made of $50 or more.
You can purchase these socks from the brand's numerous collaborations outlets like Amazon and Pride. A single pair costs about $12, and a dozen for $127.
---
2. Nike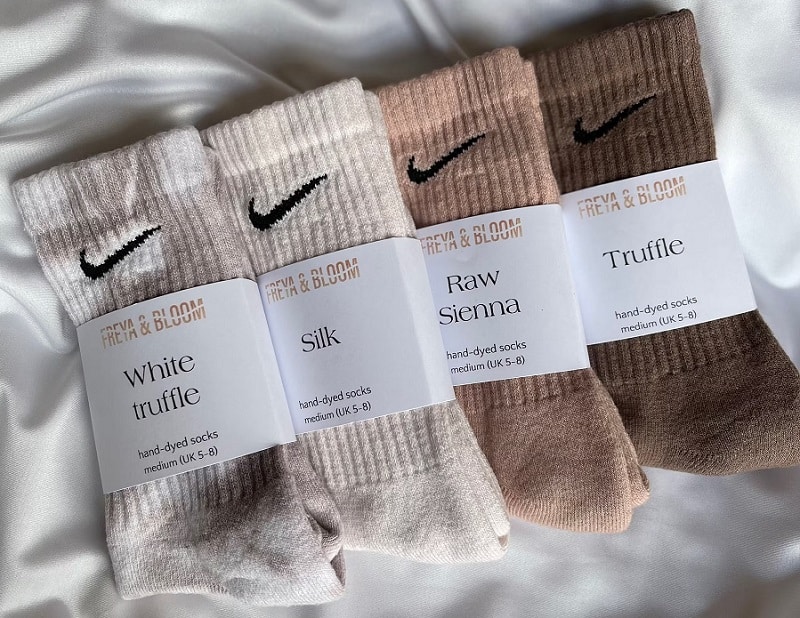 "I like the Nike logo. It makes my appearance trendy any day." Nike is a famous brand best known for producing high-quality sportswear. Its designs are simple but bold and functional. Nike is your brand if you're looking for one that suit your recreational needs.
Features
Nike socks are made with moisture-wicking technology to absorb sweat.
They have extra padding to prevent blisters from forming and prevent sliding. Also, this feature makes them suitable for winter.
There are designs like; ankle cut, knee-high, crew socks, and mid-size for women, men, and unisex.
They are available in different colors and sizes.
They offer a free shipping fee for purchases above $50.
You can add a pair of Nike socks to your wardrobe for only $14 to $62. However, those meant for high-performances cost a bit higher.
---
3. Darn Tough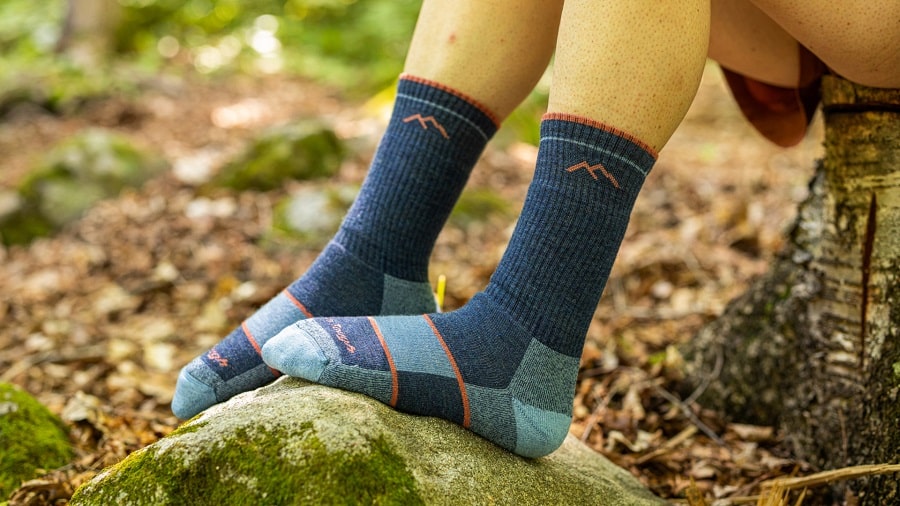 Have you been trying to find a durable pair? Look no further than Darn Tough. Darn Tough is made with merino wool for warmth and moisture-wicking properties. Having been made with high technology, they have a lifetime guarantee and can go through multiple washes without tearing.
Features
Their quality is uncompromised and thus very comfortable and durable.
They come with a lifetime guarantee; if they are not fit, cause discomfort, wear out, or fall apart within five years of purchase, they replace at no fee.
They absorb moisture without smelling.
The brand participates in charity by donating one pair of socks for every pair sold to the homeless.
---
4. Smartwool

Smartwool was founded in 1994 by Peter and Part Duke.
With Smartwool socks, comfort and style is a guarantee. The socks are made with a blend of merino wool, nylon, and elastane for comfort. Besides producing quality products, this company engages in conservation activities reflected by the numerous partnerships with conservation movements like the Nature Conservancy.
If you prefer brighter colors, Smartwool has several options of the kind.
Features
They are also moisture-wicking and odor-resistant, making them an excellent choice for active individuals.
They are breathable and thus comfortable to wear all day.
Participates in environmental conservation by making quality products from recycled items like nylon.
It has an array of options for women, men, and kids.
They are available in several designs and colors.
---
5. Adidas

Since 1949 Adidas has maintained consistency in manufacturing high-quality outfits. The founder of Adidas, Adi Dassler, founded this brand out of the urge to produce quality shoes for athletes. It gained popularity among professional players and athletes for the comfort it offered.
The Adidas brand of socks is very simple but classy. They can give you a run for your money from their variety of collections. And they have designs and cuts for children, men, and women in different colors branded with their simple Adidas logo.
Features
They are built with integrated features like arch compression for added support.
Double cushioned to ensure comfort and prevent blisters from forming.
Have moisture-wicking properties to keep your feet cool and dry all day.
They are made from a blend of cotton, polyester, latex rubber, and elastane to enhance breathability.
Adidas socks are of high quality and thus durable.
Besides Adidas socks being very trendy, they are also pocket friendly as a pair goes for $6 and $ 32 for a solid pair.
---
6. Puma

Become the champion with Puma! That's what the brand focuses on by producing quality sportswear. Two brothers, Rudolf and Adolf Dassler, developed an interest in making quality sports shoes, and they launched a small brand named Puma in 1924. Later in 1928, the company entered into a contract with the Summer Olympics to supply them with sports shoes. That was its breakthrough, and it later expanded its product line to include socks and other outfits.
The Puma socks are all way to revamp your style because of the following
Features
Their cat logo makes them very special, especially to cat lovers.
They come in numerous simple cuts and colors.
They have integrated features like arch support and extra cushioning.
There are breathable since the mesh panel feature allows air to circulate freely.
There are numerous designs and cuts explicitly meant for women, kids, and men.
The best thing about Puma is that they are pocket friends, as a pair of two or three costs about $7, while a six-pack goes for $19.
---
7. Thorlos

Thorlos deserves a space in the top 12 list of the best brands of socks. Why? As much as we all want something classy and trendy, we should also focus on quality socks for people with special foot conditions. If you know someone who needs such socks…these are it!
The brand focuses on making socks for people with specific foot conditions such as plantar fasciitis, or those with diabetes. And it brands itself a "Caretaker for the World's Feet."
Feature
They are extra cushioned to make them breathable.
They are made with moisture-wicking materials to keep the feet cool and dry.
The socks are of high quality and thus very durable.
They have a seamless toe and targeted compression zones for comfort.
A pair of Thorlos is a bit expensive, with a starting price of about $15, but you get what you pay for! It saves you all the effort.
---
8. Hanes

Hanes is a masterpiece of quality socks. They are not the best looking but are super classic. Without a background in textiles, the brand managed to gain recognition for manufacturing quality products. The military contracted it during World War II to supply them with underwear. Later they introduced other product lines like socks, among others.
Hanes has been a well-known brand offering a wide range of affordable socks for years. Their socks are made from cotton, polyester, and wool and are designed in several styles, making them your new fave.
Features
They are made in different cuts and designs for women, men, and children.
They are very affordable.
They are soft on the skin.
They are developed with integrated technology like added arch support to ensure comfort to your feet.
Hanes socks are an excellent option for anyone looking for quality socks at an affordable price since they come in packs from as low as $7 to $29.
---
9. Bonobos

When it comes to style, Bonobos has a selection of items that suit everyone's needs. With this pair, you will find comfort and effortless statement pieces designed with fun and playful features for men, women, and children. You can't get short of options for their innovative patterns with Bonobos; they also have official designs and colors for your office outfit.
Features
They are made from a blend of cotton, spandex, and lightweight jersey to ensure high quality.
They have integrated features like a cushioned footbed and arch support for extra comfort.
They are very breathable, thus preventing foot blisters.
For just $8 to $15, you can elevate your collection of socks with Bonobos brand socks.
---
10. Off-White

Off-white has a perfect pair for every man! It makes headway with bold but simple patterns suitable for an official and casual outfit. They are designed with an iconic zebra print that distinguishes them. The brand was founded in 2012 by the Hollywood star Virgil Abloh. And they are all blended from cotton, polyester, spandex, and elastane.
Features
They are very trendy and classy. "Did I mention, that Off-white is not a brand for just anyone? Lanes my friend they say!!"
Designs unique shapes for men and women
It specializes in exclusive designs.
Global deliveries are a guarantee.
I said keep lanes since a single pair of off-white costs a whopping $150.
---
11. Ted Baker

Do you enjoy a unique touch to your outfit? Look no further. Ted Baker wants to unleash your wardrobe with quality and trendy socks to match any outfit you want. They have an array of vibrant colors and unique shapes and designs. Besides, they can are eye-catching!
Features
They are of high quality.
They are very seductive, whacky, and trendy.
They have diverse, vibrant colors and designs to suit your taste.
Best for a street-like appearance.
---
12. Uniqlo

These mid-weight and crew-height socks are made from cotton, acrylic, nylon, and spandex. And are available in multiple colors, stripes, and prints. They suit those who like vibrant colors and are not understated to wear with dress shoes.
---
What to Look Out for When Shopping for Socks
1. Material
Are you shopping for something durable? Consider something made of cotton or wool, as both are durable. On the same note, socks made from synthetic fiber and merino wool provide better comfort since they have excellent moisture-absorbing properties.
2. Comfort
Choose best brands that manufacture socks which provide comfort to your feet. They should not be too tight but not too loose to fall off.
3. Value
The cost of a pair of socks is a crucial factor to consider when shopping for socks. Some brands manufacture high-quality products and sell them at lower prices. Check reviews online about various best brands of socks to figure out that. However, spending an extra coin on a quality brand is worth it.
4. Design
We can all agree, no one wants a dull appearance. When shopping for socks, you can pick a variety for specific occasions or those worn on any occasion and always stay on fleek. The most important thing is to choose one to suit your preference.
---
Conclusion
When it comes to foot comfort, socks play a crucial role in keeping your feet healthy and comfortable. But shopping for a perfect pair can be overwhelming. We've simplified your work with all the information provided above about 12 best brands of socks. Choose the right pair that goes well with your budget and taste without forgetting comfort.